The Flat Water Stirs: An Anthology of Emerging Nebraska Poets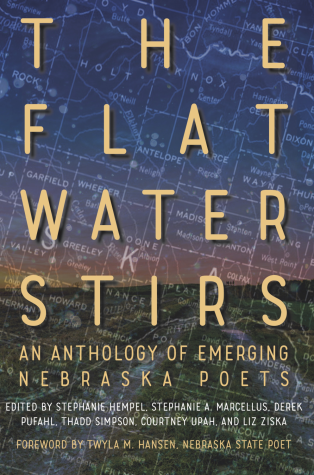 The Flat Water Stirs: An Anthology of Emerging Nebraska Poets celebrates emerging poets for their talents, especially at the time of Nebraska's sesquicentennial. This collection contains poems of various form and genre which express the diverse experience of living in or just passing through the great state of Nebraska.
Envisioned by a team of Wayne State College students and their faculty advisor, Dr. Stephanie Marcellus, The Flat Water Stirs was designed to display the work of emerging Nebraska poets. The tireless work of student editors Stephanie Hempel, Derek Pufahl, Thadd Simpson, Courtney Upah, and Liz Ziska transformed the vision of this project into a published collection that showcases the vibrant work of more than forty writers.
"The variety of new voices here provides a rich tapestry of experience and past/present life on the Great Plains, and leaves us with a sense of shared history that will resonate into the future."  –Twyla M. Hansen, Nebraska State Poet
Contributors are Bree Ackermann, Bonnie Andersen, Douglas A. Anderson, D.S. Biggs, Lin Marshall Brummels, Tana Buoy, Jeremy Caldwell, Sophie Clark, Sharon Cole, Jay Collier, Gustavo Cruz, Drew DeCamp, David Z. Drees, Sean Dunn, Robert Klein Engler, Meghan Eslick, Maritza N. Estrada, Diana Failla, Kara Gall, Andrew Gelbart, Michael J. Grove, Vicky MacDonald Harris, Kellie Hayden, Heidi Hermanson, Allison Hraban, Amber May, Sarah A. O Brien, Colleen O'Doherty, Jim Plath, Kyle Rackley, Marcella Remund, Dee Ritter, Erika Schwartz, Elizabeth Sederburg, Thadd Simpson, Nathan Sousek, Kim Tedrow, Courtney Upah, Trent Walters, Kelly Weber, M. Drew Williams, Aubree Woelber, and Liz Ziska.
The Flat Water Stirs: An Anthology of Emerging Nebraska Poets
Perfect Paperback: 148 pages
WSC Press (August 8, 2017)
ISBN-13: 978-0991013982