We Eat the Earth by Greg Kosmicki
Praise for We Eat the Earth
In We Eat the Earth, Greg Kosmicki writes with a clarity and immediacy rare in American poetry. I never feel lost in a Greg Kosmicki poem, even as each one is a small journey. I feel at home. He is as honest and open-hearted a guide to the joys and sorrows and absurdities of the human predicament as anyone could hope for. We Eat the Earth is a quietly dazzling book.
—John Brehm, author of No Day at the Beach
Greg Kosmicki makes his deceptively casual poems–as haunted by death, both individual and planetary as they are–out of the voices we use to speak of tv shows or football. Yet in the very familiarity of the cadence and vocabulary of his poetry lies its power to draw us close to the mysterious and the uncomfortable. In Greg's poems, the gate is down between poet and reader and we are rewarded with the understanding we only find when conversations go where they must.
—Richard Harrison, author of On Not Losing My Father's Ashes in the Flood, Governor General's Award for Poetry, (Canada) 2017
In We Eat the Earth, Greg Kosmicki writes wide-ranging poems of family, place, joy, disappointment, and death, with close observations of the best and worst of humanity that elevate ordinary life into clarity and wisdom. "The Weight" is an extended existential metaphor. "Cleaning Shoes" is a meditation on earth's bounty and our questionable role in it. "The Artist" with its stick people, stick airplanes, stick sheep in a stick pasture, with a stick bird eating them is an ars poetica,vividly showing us the artistic process with imagination and humor, which concludes: "I was too busy drawing/ all day long, stick cities/ oceans in which the fish/ were merely lines of my imagination/ that touched the shores I drew/ that were next to the forests/ made of sticks that were near the plains/ where the mountains were before/ I decided to erase them all// and start over again with a stick bird." These are well-crafted, delightful poems to study and savor.
—Twyla M. Hansen, Nebraska State Poet 2013-2018, Author of Rock • Tree • Bird
About the Author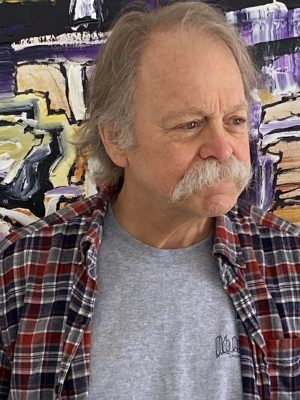 A native of Alliance, Nebraska, GREG KOSMICKI is a retired social services worker who lives with his wife in Alpine, California. He founded The Backwaters Press in 1998, which has been operated by The University of Nebraska Press since 2018. His poetry has been published in numerous magazines, both print and online, and has been included in fourteen anthologies. Three of his poems have been read on Writer's Almanac. Author of thirteen books and chapbooks of poems, he is a 2000 and 2006 recipient of the Nebraska Arts Council's Merit Award. His previous collection, It's As Good Here as it Gets Anywhere (Logan House) was a finalist for the 2017 High Plains Book Award. He and Debbie are parents of three children and grandparents of two.
We Eat the Earth
Greg Kosmicki
Perfect Paperback: 82 pages
WSC Press (2022)
ISBN-13: 978-1737924142