Points of Entry by Amy Plettner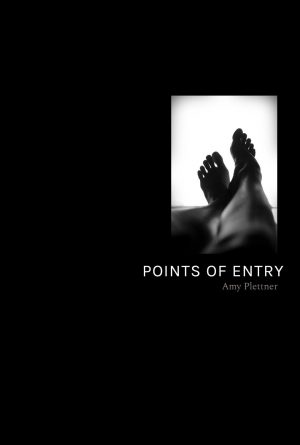 These poems by Amy Plettner are unique in the root sense of that word, which is to say they could only have been written by her. The vocabulary is simple and direct, the subject matter widely varied, the voice wholly Plettner's. The poems make clear her love of nature and of her fellow human beings, sometimes presented anonymously  as in "A Cold Day, and an Old Man," but more often as people she knows and loves, as in "Under the Elms," a memory of her daughter when young, or a touching love poem to her ex-husband. The poet takes on several personae, speaking as mother, wife, ex-wife, and homage-paying poet (Dorothea Lange, Wallace Stevens). Glimpsed through all her human contacts here is the life of her massage therapist, whose fight with cancer and eventual death is woven through the book's four sections. Yet somehow the book is not elegiac; in poem after poem, Plettner affirms her love of life.
—Roy Scheele, author of A Far Allegiance
With elegant lines like "Every cell has intelligence—/to swallow is to worship", Points of Entry is more than a book of poetry, it is a call for us to recognize that our stories and the stories of our ancestors are housed in our bodies.
Moving seamlessly between past, present, and future, Amy maps her relationships with lovers, an ex-husband, the land, her family of origin, her daughters, her grandson, and the beloved massage therapist she lost to cancer, in order to awaken us (sometimes gently, sometimes with great force) to the knowledge that the body—all bodies (water, earth, our physical selves)—hold memory and can become our greatest source of intelligence.
These poems hurt, but in the best kind of way. When you finish this book you will understand why, when we find an unexpected bruise in full bloom on our bodies, our first impulse is to gently press it, knowing that this is how we might begin to remember its source.
—Sarah McKinstry-Brown, author of This Bright Darkness
Amy Plettner holds an MFA from the University of Nebraska. She lives and works on a tall grass prairie in southeast Nebraska where she has learned to wrangle snakes, wasps, and small mammals. Much of her work can be found in an old set of luggage stacked next to her bed that requires no key. Her first book, Undoing Orion's Belt, came out in 2011, and her poems have been anthologized in Nebraska Poetry: A Sesquicentennial Anthology 1867-2017, The Untidy Season, and Nebraska Presence.
Points of Entry
Amy Plettner
Perfect Paperback: 94 pages
WSC Press (January 16, 2019)
ISBN-13: 78-1732027510