The Flat Water Rises: An Anthology of Short Fiction by Emerging Nebraska Writers
Hang on for a minute...we're trying to find some more stories you might like.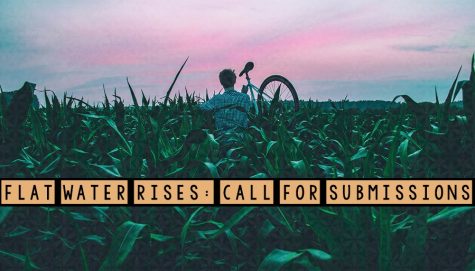 The Flat Water Rises: An Anthology of Short Fiction by Emerging Nebraska Writers is seeking flash fiction and short story submissions written by emerging authors with Nebraska connections. This collection will serve as a companion volume to The Flat Water Stirs: An Anthology of Emerging Nebraska Poets which was published by WSC Press in 2017 to celebrate Nebraska's 150th year of statehood.
Those who wish to submit their fiction do not need to currently live in Nebraska but should have a meaningful connection to the state; also please note that submissions do not need to be about the state but certainly can be. We define "emerging" authors as those who have never published a book of their own work, chapbooks excluded.
Those interested in submitting should visit https://wscpress.submittable.com/submit.
Please follow the guidelines stated below:
· Authors may submit up to two fiction pieces by December 15, 2017. Stories may be of flash fiction or short story length, between 200-3,000 words and formatted as doc or docx files. If you are sending more than one story, please upload your submissions as one file and clearly identify each story with a title.
· The story should contain no marks identifying the author. Please DO NOT include your name, address, or bio with the story as we use a blind reading selection process.
· However, please provide your name, address, and bio in the Submittable textbox labeled "cover letter."
· Bios should be written in third-person format and 80 words or less in length. The bio must relate the author's connection to Nebraska.
There are no submission or reading fees. We do accept simultaneous submissions, but please be sure to withdraw your story as soon as you know it's been accepted elsewhere. No previously published work will be considered. Authors whose work is accepted will receive a contributor's copy of the final book as payment. The anticipated publication date is fall 2018. Please direct questions to [email protected]