PWS April 27th, 2017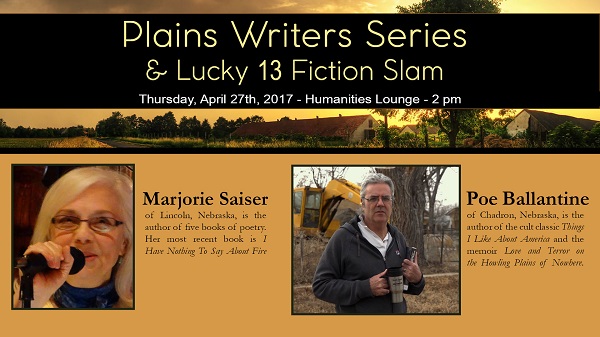 Spring 2016 Plains Writers Series and Lucky 13 Fiction Slam
Wayne, Nebraska, Tuesday April 27, 2016― Wayne State College's Language and Literature Department, the School of Art and Humanities and the WSC Press are pleased to hold this spring's Plains Writers Series on Thursday, April 27, 2017. The Plains Writers Series is held several times a year in an attempt to bring attention to the prose and poetry of local Great Plains writers through reading and interacting with area audiences.
This spring's Plains Writers Series will highlight two authors, Poe Ballantine and Marjorie Saiser. The authors will share selected pieces of their recent works in the second floor lounge in the Humanities Building at Wayne State College at 2:00pm.
Following the Plains Writers Series will be the Lucky 13 Fiction Slam. The fiction slam will be held at the Max Bar and Grill in downtown Wayne, NE starting at 7:00 pm, with required prelims starting at 5:00 pm. If anyone would like to participate in the slam they will need 2 original short stories and $5 for registration at the door. All events are free and open to the public.
AUTHOR BIOS:
Poe Ballantine is the author of the cult classic Things I Like About America and the memoir Love and Terror on the Howling Plains of Nowhere, which was made into a feature-length documentary and is also slated for an episode of Unsolved Mysteries. His madhouse, horseracing novel Whirlaway is scheduled for publication with Hawthorne Books in April of 2018. He lives in Chadron, Nebraska, with his wife and son.
Marjorie Saiser has five books of poetry, most recently I HAVE NOTHING TO SAY ABOUT FIRE from The Backwaters Press. Her awards include Nebraska book awards and the Willa Award. Saiser holds a Master's Degree in Creative Writing and was nominated for a Pushcart Prize by the editors of Prairie Schooner. Her poems have been published in Poetry East, Poet Lore, Rhino, Rattle, Nimrod, American Life in Poetry, Chattahoochee Review, Writers Almanac, and at poetmarge.com.