Music Box Treaty by Richard Duggin
Hang on for a minute...we're trying to find some more stories you might like.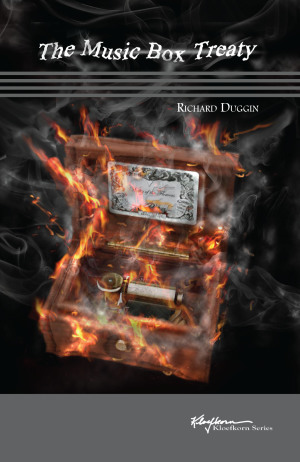 "One part Walter Mitty, one part Lord Jim, one part Bartleby, and three parts us. Marion Monaghan dreams of being an existential hero out of the Hemingway novels he used to teach before retreating into a railroad shack on the edge of Lodgepole, a town "right in the bellybutton of the country" and a former hunting ground of "The Band That Don't Eat Dog." Caught between feeling "the stuff that touchdowns are made of and the urge toward utter surrender, he joins the Lodgepole Volunteer Fire Department & Rescue Squad to escape defeat by what Randy Newman calls "the chuckholes down memory lane." With a poet's eye, a stand-up's wit, and a gifted storyteller's power to keep us engaged, Duggin narrates Marion's struggles to make a treaty between the opposing sides of himself in a novel as enchanting as the protagonist's magical music box."
—William Trowbridge, Poet Laureate of Missouri and author of Ship of Fool
 
"In Marion Monaghan, Richard Duggin has created a singular eccentric–English Lit professor, East Coast transplant to the "bellybutton of the country," aspiring volunteer fire department member, and connoisseur. Marion is the chronicler of memory, imagination, and the heart's quixotic and soul-forging desires. The Music Box Treaty is a delightful read, a treat for anyone who enjoys flights of fancy, modest everyday heroism, salt-of-the-earth characters, and a darn good sentence or two."
—Amy Hassinger, author of Nina: Adolescence and The Priest's Madonna
Music Box Treaty is the eighth book in the Kloefkorn Series published by the WSC Press.
Music Box Treaty
Richard Duggin
Perfect Paperback: 168 pages
WSC Press (December 1, 2011)
ISBN: 978-0982382868
$12.00