Undoing Orion's Belt by Amy Plettner
Hang on for a minute...we're trying to find some more stories you might like.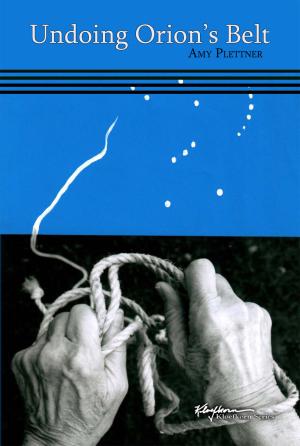 "Deep-rooted in the visceral and spiritual, Amy Plettner's poems possess an understanding of our hunger for physical contact with the natural world and with each other. Along with the corporeal is a tension between emotional fulfillment and insatiableness that reminds us how primal we are at heart."
—Teri Youmans Grimm, author of Dirt Eaters
"Amy Plettner, like Whitman, is a poet of the body as well as the soul. Her poems smell of loam and sage, of trees and rivers. Her lines are organic and muscular, moving with the rhythms of the breath and the seasons. Her poems about family are not out of Rockwell or Hallmark. Hers deal with a genetic cord that s a jump rope hissing like Grandmother s geese. Her family values include fast feet, a mind of one s own, and a good left hook. In a poem entitled Kissing Cousins, in which cousins do some serious kissing, she notes her family Bible was lost by her great-great uncle on Deal Beach, where the scripture was scattered like spilled semen/among the dead. Of her beloved home turf, a Nebraska nature sanctuary, she notes, Grass drapes entrance of badger hole/ hoarfrost gathers elegant lace. Hot inhalation,/ so much breathing between my toes."
—William Trowbridge, Poet Laureate of Missouri and author of Ship of Fool
Amy Plettner is known to many in the writing community as a woman who reflects life's most intricate and simple beauties. Her poems display the vigor of her personality and her constant desire to portray the world that has brought her to where she is today. They encompass scenes of her Grammy twisting her hair into a concise and tight bun, the sensuality found in a cup of coffee, and the droning of Tom Waits. Amy graduated with an MFA in writing from the University of Nebraska. Her poems reflect some of her best work completed during the program while also including the musical rhythms of her past. This collection teems with life, death, sexuality and the rebirth of spirit, drawing readers into a world that may have previously slipped before their eyes.
Undoing Orion's Belt is the seventh book in the Kloefkorn Series published by the WSC Press.
Undoing Orion's Belt
Amy Plettner
Perfect Paperback: 70 pages
WSC Press (August 1, 2011)
ISBN: 978-0982382851
$12.00