Saving Singletrees by Leo Dangel
Hang on for a minute...we're trying to find some more stories you might like.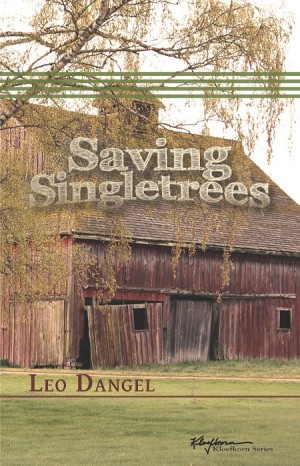 "Leo Dangel may seem to write about small matters, often connected to farming, but underneath these ordinary details lurk blossoming joy, ferocious pain, shock and sadness common to every reader. Always, he writes of what s worth remembering."
—Linda M. Hasselstrom
"What I most admire about Leo Dangel's work is his tact by that I mean his unerring ability to know what not to say. He is a master of understatement, of a kind of dryness and reserve that, paradoxically, is the sign of a pathos too great to limit in language. Dangel exemplifies both the plain style, that Yvor Winters praised, and the Ovidian principle that the greatest art seems artless. Accordingly, Dangel consistently eschews self-displaying flash, and his humor and light touch always serve a seriousness. One poem in the book speaks of pleasure that hasn't stopped, and Pleasure is the presiding deity of Dangel's poetic world. If you weary of the literary scene s latest fashionable poses and predictable unpredictabilities, you may find refuge in Leo Dangel."
—Philip Dacey
"I've always appreciated the way Leo Dangel s poems leap headlong into life. In the book s first poem ( Starting the Day ) an old pork n bean can that serves as a rain hat/ on the muffler of the John Deere,/ is delighted when the farmer forgets/to remove it . . . so when he starts up the tractor the can goes flying in a joyous blue-sky arc/to land sprawled and laughing/in the soft wet grass. That s the kind of tough-minded, fearless, upbeat spirit I m talking about. Any reader will quickly discover that these poems, set mostly in the rural Midwest, were written by a true grown-up who has learned, from both joyous and bitter experiences, not to take himself too seriously, who delights in the minute and subtle details of life, cherishes family and friendships, and can readily mix the serious with the humorous, as in these lines from In What Nails Talk About While Waiting In Their Bins : An old used nail, recycled to the bin, /doesn 't talk, having suffered a trauma/when pulled out by a hammer claw. Over many decades of writing, and a number of books, Leo Dangel has set a high standard as a poet. This book of new poems shows that there s been no let up. Highly recommended."
—David Allan Evans, Poet Laureate of South Dakota
 Saving Singletrees is the ninth book in the Kloefkorn Series published by the WSC Press.
Saving Singletrees
Leo Dangel
Perfect Paperback: 108 pages
WSC Press (November  2013)
ISBN: 978-0982382882
$12.00