Plains Writers Series: April 21, 2021
Dave Mainelli
Wayne State College's Language and Literature Department, the School of Arts and Humanities, and the WSC Press are pleased to hold this Spring's Plains Writers Series on Wednesday, April 21, 2021. The Plains Writers Series is held several times a year to bring attention to the prose and poetry of Great Plains writers through reading and interacting with area audiences. 
This Plains Writers Series will highlight Dave Mainelli. The readings will be hosted via Zoom at 4 p.m. CST. This event is in collaboration with the Visiting Writers Series at Northeast Community College.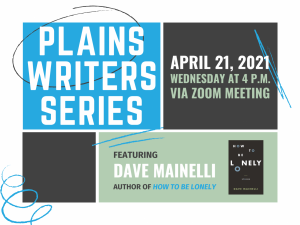 DAVE MAINELLI is a writer from Omaha, Nebraska. In 2012, Dave came down with a serious illness and reestablished some priorities in his life. Music and writing came to the forefront and have remained there since. He's a graduate of the University of Nebraska MFA in Fiction and a singing/songwriting member of Bazile Mills. He's also owned restaurants for over 25 years and has traveled around the world as a business consultant. He now teaches writing at Iowa Western and Wayne State College. How to Be Lonely (WSC Press, 2021) is his first book of short stories.