Plains Writers Series: March 31, 2021
Samuel Renken
Wayne State College's Language and Literature Department, the School of Arts and Humanities, and the WSC Press are pleased to hold this Spring's Plains Writers Series on Wednesday, March 31, 2021. The Plains Writers Series is held several times a year to bring attention to the prose and poetry of Great Plains writers through reading and interacting with area audiences.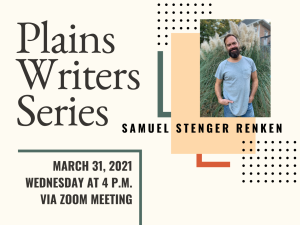 This Plains Writers Series will highlight Samuel Stenger Renken. The readings will be hosted via Zoom at 4 p.m. CST. This event is in collaboration with the Visiting Writers Series at Northeast Community College.  
SAMUEL STENGER RENKEN received his BA at Nebraska Wesleyan with the late great Bill Kloefkorn, an MA at Clemson with Keith Lee Morris, and an MFA in Wyoming with H.L. Hix. First Pony Out (WSC Press 2020) is his second collection of poetry. He is currently Managing Director of Consolidated Planning Atlanta.