Of Bone, of Ash, of Ordinary Saints: A Nevada Gospel by Gailmarie Pahmeier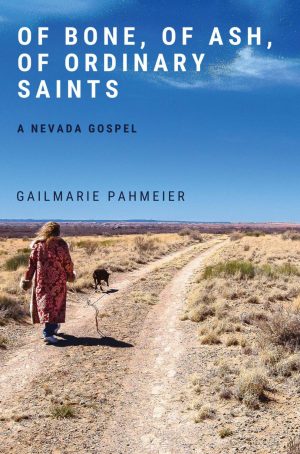 "This book should be mandatory reading for every visitor to and resident of Nevada. A brilliant celebration of Nevada's state park system, a travelogue of Nevada's beauty, the rangers keeping it so, and the traveler's passing through. There's a reason Pahmeier was the first poet laureate of Reno, Nevada. My favorite poetry book of the year."
—Willy Vlautin, Singer-songwriter, author of Don't Skip Out on Me, PEN/Faulkner finalist 
"Do yourself a favor: Open this book and read "The Infrequent, Yet Beautiful, Trumpeters." That's what you hold in your hands. That's what you're about to fall in love with. Gailmarie Pahmeier transports us to the state of Nevada with poems layered in historical context, while also serving as a witness to the extraordinary lives of those who rarely find themselves in verse. Pahmeier asks us to "consider all the ashes you are asked to carry" while reminding us that "the last voice/ you'll hear is one singing, barely a whisper." What begins as an obvious love song to the state of Nevada ends as a love song to the strangers who pass through our lives, beautiful and hurt and tenacious in their quiet love for this world."
—Brian Turner, Poet, Essayist, Director of Sierra Nevada College MFA Program, author of Here, Bullet and Phantom Noise
"With grace and intelligence and wit, these luminously detailed poems drive us across Nevada and into the ancestral soul of its landscape and its people. Earthy yet reverent, effortlessly lyrical, these are poems that understand the path to the universal is through the regional. Each poem seems a lesson in empathetic observation: Pahmeier allows the voices of her "ordinary saints"—park rangers and waitresses, retired linemen and bewildered fathers—to sound clearly through her poems without sentimentalizing or degrading. The result is a "pure covenant" between poet and subject, between inner feeling and external landscape. Simply put, these are poems that know what matters and—because of this—matter.
—Steve Gehrke, Poet, author of Michelangelo's Seizure, which was selected for the National Poetry Series
"Gailmarie Pahmeier's Of Bone, of Ash, and of Ordinary Saints: A Nevada Gospel takes readers on a cinematic road trip through rural Nevada with a narrator who knows how to tell a good story, knows just the right thing to say, and when to say nothing and simply listen. Along with the coyote, deer, owl, and other wildlife, the book is populated with dogs—the dog with sunglasses and a top hat, a German shepherd who's a good kisser, hounds, chihuahuas, border collies—but encircling them all is the spirit of the "one great dog" who journeys through these poems, as the narrator scatters his ashes over various sites, recognizing what is holy in each, blessing them with a guardian. Gailmarie finds the lovely in the lonely old roads. She observes, "what we love most remains / communal, as common as a kiss." If the bittersweet humor of the parks and people featured in these poems doesn't break your heart into beautiful pieces, the empty paint can in the end surely will."
—June Sylvester Saraceno, Poet and Novelist, author of Feral, North Carolina, 1965 and The Girl from Yesterday
For years—decades, actually—I have looked to Gailmarie Pahmeier's poetry to instantly wake me like a splash of high Sierra spring water. Reader: brace yourself. This delight-laden and unforgettable book is just going to reach out and grab you, and then never quite let you go. Yep. That good.
—David Lee, former Utah Poet Laureate, Pulitzer Prize nominee, author of Mine Tailings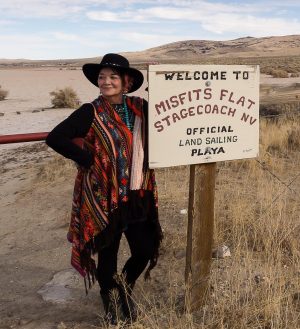 Gailmarie Pahmeier has lived most of her life in Nevada. She teaches creative writing in the MFA Programs at Sierra Nevada University and the University of Nevada, where she has been honored with various teaching awards, including the University Distinguished Teacher Award. Widely published, her work has received a number of awards, including a Witter Bynner Poetry Fellowship, an Academy of American Poets Prize, and three fellowships from the Nevada Arts Council. Pahmeier is the author of three chapbooks and two full-length collections of poetry, including The Rural Lives of Nice Girls. In 2015, she was appointed Reno's first Poet Laureate, in 2016 she was inducted into the Nevada Writers Hall of Fame, and in 2017, she was selected as Nevada's Outstanding Teacher in the Humanities.
Of Bone, Of Ash, Of Ordinary Saints: A Nevada Gospel
Gailmarie Pahmeier
Perfect Paperback : 82 pages
ISBN-13 : 978-1732027565
WSC Press (August 26, 2020)