MINI INTERVIEW: Theodore Wheeler
Interviewed by Libby Dunn – March 2020
Your latest novel In Our Other Lives was released on March 3, 2020. What do you want potential readers to know about the book?
The story is told from the perspective of an NSA/FBI investigation into a Midwestern family whose son has disappeared while working as a missionary in Pakistan and then reemerges in a ransom video a year later. The narration is largely obsessed with the intimate details of a woman named Elisabeth Holland and her personal life as she deals with not only the disappearance of her brother, but also the SIDS death of her child and a husband who abandoned her. I started working on the book in 2014, not long after Edward Snowden leaked the extent that the US government was spying on not just terror suspects, but basically every American citizen. I read an article that talked about how NSA workers become caught up in the personal lives of those they surveil–romantic relationships, deaths in the family, etc.–and wondered what it would be like to tell a story about intense personal tragedy within the form of a thriller frame, a sort of domestic-spy novel. It felt like a strange premise for a novel, but we live in a pretty strange world. Even with the high-tech concept, In Our Other Lives still squarely fits within the American Realism literary tradition, even if it feels different than John Steinbeck or Ernest Hemingway. Our nature has changed.
Your novel(s) make it clear that you have a niche for depicting major events through different perspectives. What inspires you to write about history in such a way?
It's exhilarating to write about the issues of our time in a deep and, what feels to me, meaningful way. The great American novel is out of fashion right now, but the potential of doing something significant always excites me. Not to sound grandiose about it; though art should have some sense of importance, at least in its ambition. Big events and set pieces are also helpful as organizing principles for the plot of a book, and multiple, more-or-less simultaneous perspectives of history invites readers to think about our culture and society. As an example, in addition to the spying and security theater themes, In Our Other Lives also revives the safe haven adoption crisis from 2008, when the state allowed a parent or guardian to give up custody of a child up to age eighteen at local hospitals. There was a famous example of a single father who gave up nine kids at one time, from ages eight months to eighteen years, something that's fictionalized in In Our Other Lives. There were important connections between the safe haven families and what Elisabeth was going through–with losing her infant son, her family falling apart, and her every move being watched throughout the process. It felt like a massive failure of Humanism to refuse to take care of the people in our society while simultaneously expending huge amounts of resources to catalog the private moments of their lives. That failure is something I wanted to represent.
Do you think your debut novel Kings of Broken Things – which detailed early 20th century racism in Omaha, NE – helped readers come to terms with the reality of contemporary racism?
I do. At least for the people I talked to, from the over sixty events I did in person and online, the book provided an occasion to talk about the history. A lot of people in Omaha didn't even know about the lynching of Will Brown to start with, so there was some educational value, and the novel is an instigation to address the way that historical racism still plays out in our society. It took me some time to learn how to talk about the book and racism in Omaha, but after a while I always made a point to ask audiences to think about where they see these issues continuing and what they could do to help nudge along change. It's hard to say how much Kings actually did in a social sense. I hope a person feels compelled to reflect after reading the story.
Given that both Kings of Broken Things and your latest novel In Our Other Lives could both be considered historical fiction, what major aspect differentiates the two works?
They do take place ninety years apart, so there are a lot of differences there. Mostly they have very different narrative styles and voice. The narration of Kings of Broken Things is filtered through the memories of a group of boys who are looking back on remarkable events that occurred in their childhood neighborhood, while In Our Other Lives is told from the perspective of an active investigation. The voice in Other Lives has that needling self-importance that comes with urgency, while Kings is told more from a place of reverence and regret. For these reasons, Other Lives plays with language in a way and has elements of dark comedy that would be very out of place in Kings.
What was the inspiration behind your roving bookstore Dundee Book Company? How many times a year do you "pop up" at various locations?
For years my wife, Nicole, and I lamented that our neighborhood in Omaha lacks the kind of independent bookstore that is commonplace in most historic "revitalized" neighborhoods around the country. We love the Bookworm, we just wished there was something similar in Midtown. It's crazy to think about, but, twenty years ago, Omaha had over a dozen independent bookstores that sell new books, and now we have one. That's such a huge difference for our community. Eventually we felt compelled to do something, rather than keep complaining, and conceptualized the book cart as the smallest thing we could do that would still be an actual store, and something we could pull off without quitting our day jobs and losing our insurance. The cart itself is made from rescued barnwood and attracts attention wherever we set up. We do around five events a month with the hope of sparking conversation about how books fit in people's lives, the temporality of objects, and the importance of serious reading that has nothing to do with self-improvement or information acquisition.
As co-director of Omaha Lit Fest, what brought about the idea to create the festival? What is your favorite thing about this annual event?
Lit Fest was started by Timothy Schaffert in 2005 and was put on for a decade in its original incarnation before it went on hiatus for four years. I, like a lot of people, missed the festival once it was gone. In particular, having my first two books come out during the hiatus, I felt that absence while trying to promote and celebrate my work. It felt like such a gap for a city of Omaha's size and regional prominence to not have an annual marquee literary event. After a year of doing the book cart, Nicole and I took it upon ourselves to restart Lit Fest. We felt Dundee Book Company was successful enough, we were connected and knew how to put together events, that we should start putting together a festival and see where it went. Since the first year was a hit, we're working on a second year and hopefully pulling together enough partners to keep the festival thriving long after we step aside.
It is rather easy to assume the Omaha Lit Fest's partnership with the Maha Festival on August 5 and 6 will lead to great success. How did you make this happen?
Lauren Martin, the amazing executive director of Maha Festival, actually came to us with the idea. They've been working to pull together different elements of culture-building in the city and have been generous with sharing their resources, infrastructure, and contacts. It's been a cool partnership with their talented team. I'm excited to see how the different elements and people of Maha week overlap and mix. Most of our work with Lit Fest and Dundee Book Company has been aimed at breaking down cliques that can be quite stubborn in Omaha. Getting people to go support someone they normally wouldn't, to even sit down and talk with new people. It's a challenge. Maha has experience with this kind of effort, so we're learning lots and hopefully contributing to the cultural value of the region as well.
Does teaching creative writing at UNO help you progress as a fiction writer?
Teaching definitely has helped. Jericho Brown read at UNO a couple years ago and mentioned how he tries to be writing all the time, using the example of Beyoncé waking up and singing scales each morning. You might think Beyoncé doesn't need to sing scales anymore, that she's beyond the building blocks, but her mastery of the foundation is part of what enables her to be great. It's an awesome way of looking at things, and I think teaching has helped me in similar ways, keeping me focused on fundamentals. Plus, being around young writers is very nourishing. Folks who are excited about books and writing without yet worrying about platform and sales and tenure and the million other things that weigh most authors down.
Are you working on anything currently?
I'm very early with a new novel that follows a group of foreign correspondents in Europe in the early days of World War II that chronicles how journalists resisted the rise of Fascism. Well, one character who resists and another who becomes an enthusiastic booster for Fascist regimes. More and more my writing is obsessed with crime narratives and I think this one will continue that exploration as a psychological chase novel set within bourgeois pockets of the war.
What advice would you give aspiring writers?
One of my favorites is: It takes three things to make it as a writer–talent, luck, and perseverance–and you can only control one of them. Give as much to the work as you can, for as long as you can. And another one, for balance, from Isak Dinesen: "Write a little every day, without hope and without despair." My writing teacher and mentor Brent Spencer says that one a lot (in fact, he said it the most recent time I saw him) and it's the perfect mantra to help clear your head while preparing yourself to write.
---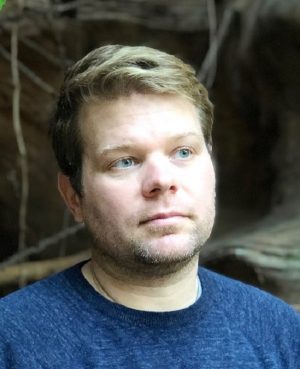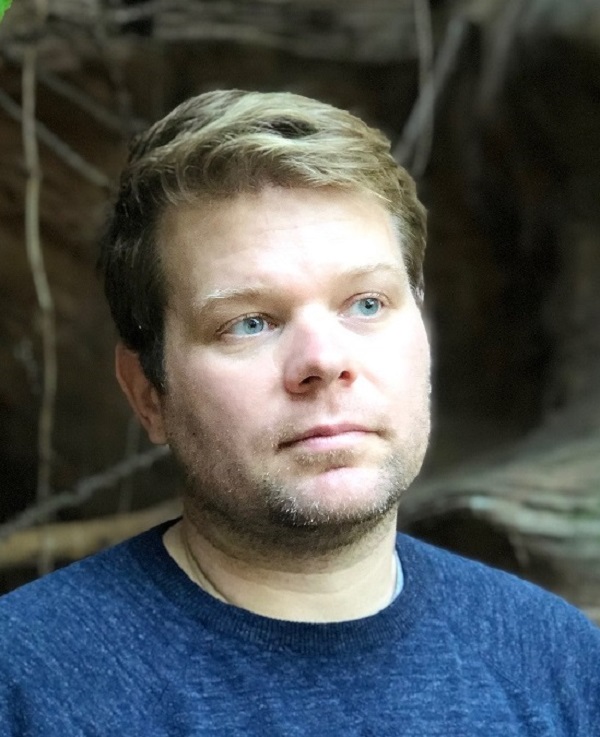 Theodore Wheeler is author of the novels In Our Other Lives and Kings of Broken Things, and a collection of short stories, Bad Faith. A current National Endowment for the Arts creative writing fellow, he has been recognized with a Marianne Russo Award from the Key West Literary Seminar, a fellowship from Akademie Schloss Solitude in Stuttgart, Germany, and was a resident at the Kimmel Harding Nelson Center for the Arts. Wheeler is a graduate of the creative writing program at Creighton University, and now teaches at the University of Nebraska at Omaha. He also covers a civil-law and politics beat for a national news service, co-directs Omaha Lit Fest, and sidelines as a bookseller for the Dundee Book Company roving book cart, one of the world's smallest bookstores. Read more about him at theodore-wheeler.com. In Our Other Lives is his latest novel.