Plains Writers Series – Nov. 15th, 2018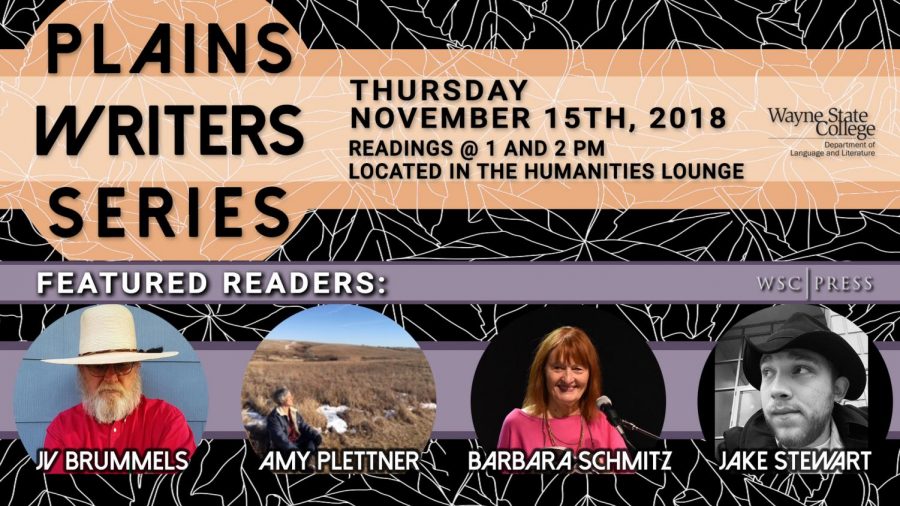 Wayne State College's Language and Literature Department, the School of Arts and Humanities, and the WSC Press are pleased to hold this fall's Plains Writers Series on Thursday, November 15th, 2018. The Plains Writers Series is held several times a year in an attempt to bring attention to the prose and poetry of local Great Plains writers through reading and interacting with area audiences.
This Plains Writers Series will highlight the authors Amy Plettner, Barbra Schmitz, JV Brummels, and Jake Stewart. The readings will begin at 1pm and 2pm in the lounge on the second floor of the Humanities Building at Wayne State College.
Following the Plains Writers Series will be Poetry Slam XL. The slam will be held at the Max Bar and Grill in downtown Wayne, NE starting at 7:00 pm, with registration starting at 6:00 pm. Pre-slam musical entertainment provided by Eddie Elfers and Vito Cole. For more information on PWS and Poetry Slam XL, please visit wscpress.com.
ABOUT THE READERS:
JV Brummels' collections include Cheyenne Line and Other Poems, Book of Grass, City at War and most recently [email protected] (Stephen F. Austin University Press, 2017). A former professor at Wayne State College, home of the longest running poetry slam west of Chicago, he's also written and published short fiction and a novel. Raised first on a farm and later on a ranch, he was educated at the University of Nebraska and Syracuse University. In 1984, he and his family began a horseback cattle outfit to raise natural, grass-fed beef, which they continue to operate as Lightning Creek Cattle Company.
Born in Omaha, Amy Plettner is an outdoor educator on Nebraska's endangered tallgrass prairie. Plettner holds an MFA from the University of Nebraska. Her poetry has been published in a variety of anthologies and journals, such as The Sow's Ear Poetry Review, burntdistrict, Rattle, Prairie Wind and The Untidy Season. Her first book of poetry, Undoing Orion's Belt, is the seventh of the Kloefkorn Series published by WSC Press. Her forthcoming book, Points of Entry (WSC Press), will be released in fall 2018.
Barbara Schmitz is Emeritus Instructor of English at Northeast College where she taught writing and literature for thirty years and founded the Visiting Writers Series. Her latest books are What Bob Says (Some More) (WSC Press), Always the Detail (SFA University Press) which won Honor Book in Poetry from the Nebraska Center for the Book 2015; Path of Lightning: A Seeker's Jagged Journey (Pinyon Publishing); and How Much Our Dancing Has Improved (Backwaters), winner of the 2005 Poetry Award from Nebraska Center for the Book. Her work appeared in six poetry anthologies in 2017 including Nebraska Poetry: A Sesquicentennial Anthology and Nasty Women. Just Outside is forthcoming from Sandhills Press.
Jake Stewart currently lives in Wayne, Nebraska and is enrolled at Wayne State College where he is pursuing a master's degree in post-secondary education. Along with taking courses, he is also teaching two sections of composition skills and writing the column called "Dead in the Water" for the Wayne Stater. His latest book is Whiskey Vengeance (Pseudo Poseur Productions, 2018), a novel in verse. He has also been published in the Wayne State publication The Judas Goat.