Getting By by Gary Lark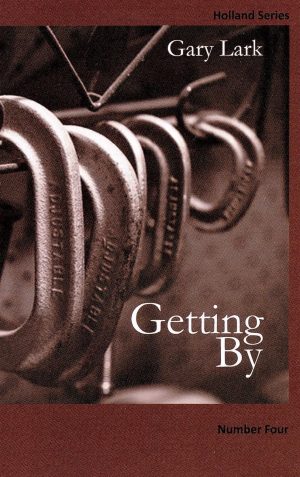 These are poems of fierce candor and compassion. In blunt, plain-spoken language, they chronicle a life lived on the fringes: a rural Oregon boyhood and a working life spent variously as a laborer, a janitor, a hospital orderly, a National Guardsman, an outreach librarian . . . With precise detail and a very gentle touch, they record passages through places where poetry rarely goes. Getting By is an apt title for this remarkable book.
–Clemens Starck, author of China Basin, Studying Russian on Company Time and Journeyman's Wages, for which he received the Oregon Book Award.
When he was a boy, Gary Lark helped his father build their family house. Lark writes, I straightened nails for my father / to re-drive, piecing a home together. Getting By is itself a kind of house, pieced together of memorable characters and heart-rending stories, all told in language as thrifty as straightened and re-driven nails. From gravel back roads and hardscrabble homesteads, from lumber mills, VA hospitals, institutional kitchens, and jail libraries, these poems are clear-eyed, honest, and unsentimental. Getting By is a book you can live in.
–Charles Goodrich, author of The Insects of South Corvallis and The Practice of Home: Biography of a House. He is the Spring Creek Program Director at Oregon State University.
Getting By
Gary Lark
Paperback: 78 pages
Logan House; 1st Edition edition (October 4, 2009)
ISBN-13: 978-0976993544