The Flat Water Stirs Book Release & Readings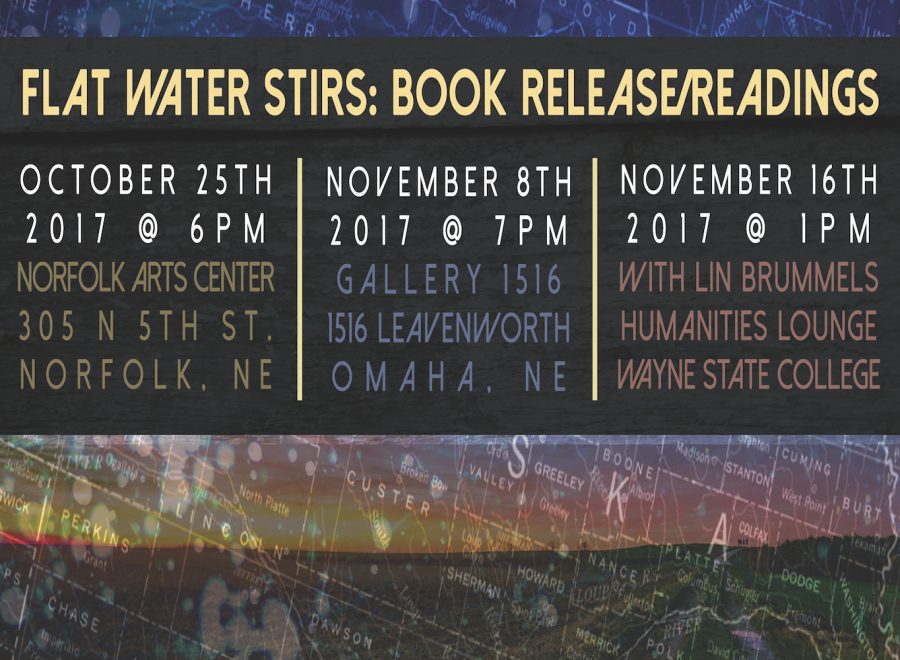 The Flat Water Stirs: An Anthology of Emerging Nebraska Poets celebrates emerging poets for their talents, especially at the time of Nebraska's sesquicentennial. This collection contains poems of various form and genre which express the diverse experience of living in or just passing through the great state of Nebraska. There will be three reading events this fall that will showcase the contributors from the anthology. Please join us!

Book release events:
Oct. 25 @ 6pm
Norfolk Arts Center
405 N. 5th St
Norfolk, NE
Nov. 8th @ 7pm
Gallery 1516
1516 Leavenworth St
Omaha, NE
Nov. 16th @ 1pm
Plains Writers Series
Humanities Lounge
Wayne State College
Wayne, Ne
Envisioned by a team of Wayne State College students and their faculty advisor, Dr. Stephanie Marcellus, The Flat Water Stirs was designed to display the work of emerging Nebraska poets. The tireless work of student editors Stephanie Hempel, Derek Pufahl, Thadd Simpson, Courtney Upah, and Liz Ziska transformed the vision of this project into a published collection that showcases the vibrant work of more than forty writers.