Plunk by Tom C. Hunley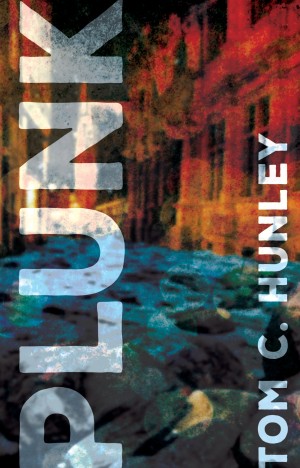 Tom C. Hunley is a professor of English at Western Kentucky University, the director of Steel Toe Books, and the vocalist/rhythm guitarist for Dr. Tom and the Cartoons He is the author of three previous full-length poetry collections, two textbooks, and six chapbooks. He is the co-editor, with Alexandria Peary, of Creative Writing Pedagogies for the Twenty-First Century, forthcoming from Southern Illinois University Press. He divides his time between Kansas and Oz.
"BLURBS"
My manuscript got picked up like a hitchhiker, bedraggled
and haggard, and I need words to cover the back cover.
I don't want to rouse any of my poet friends from their
lonely fame. They should be writing poems, not blurbs.
They should be jogging or having prescriptions filled.
We can all agree on this, I think. They should be tending
to their gardens and their students. They should be
closing the bar, working on their lines.
I could walk up to Matthew Dickman at AWP and go
"Matthew, please blurb my book" and he might do it.
See, I'm on a first name basis with Matthew Dickman,
so you should read me would be what the blurb would
say, regardless of what words he put in it.
Eduardo Corral is the nicest guy in po-biz, and I'll bet
I could cajole him into writing "These richly-inhabited
poems glimpse the mysteries and do not flinch when
confronted with the inevitablity of tragedy. In his latest
collection to date, Hunley ricochets between irreverent
defiance and childlike awe. Reading this book is like taking
jello shots at Disneyland." But what would that mean?
Don't ask me; ask Eduardo.
Plunk
Tom C. Hunley
Perfect Paperback: 72 pages
WSC Press (April 2015)
ISBN: 978-0-9910139-2-0
$16.00