PWS March 5th, 2015
Hang on for a minute...we're trying to find some more stories you might like.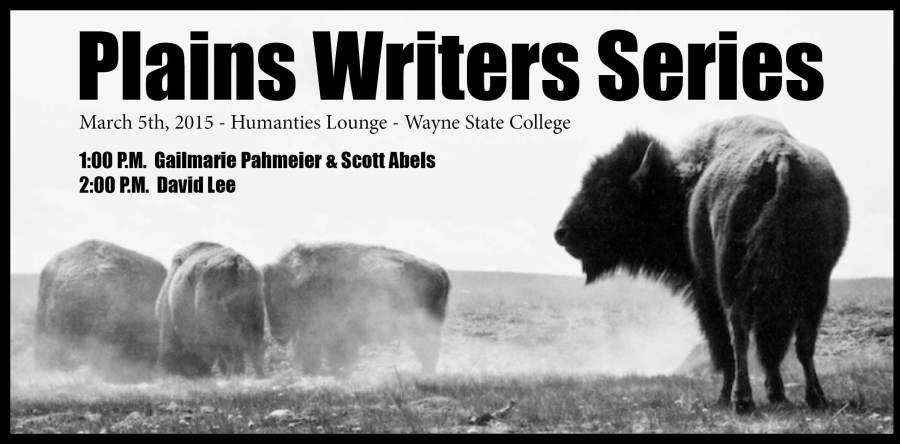 Wayne, Nebraska, Monday, February  16, 2015― Wayne State College's Language and Literature Department, the School of Art and Humanities and the WSC Press are pleased to hold this spring's Plains Writers Series on Thursday, March 5th, 2015. The Plains Writers Series is held several times a year in an attempt to bring attention to the prose and poetry of local Great Plains writers through readings and interacting with area audiences.
This 's Plains Writers Series will highlight three authors: David Lee, Gailmarie Pahmeier, and Scott Abels. The authors will share selected pieces of their recent works in the lounge on the second floor of the Humanities Building at Wayne State College at 1:00 pm and again at 2:00 pm.
1:00 pm – Gailmarie Pahmeier & Scott Abels
2:00 pm – David Lee
Following the Plains Writers Series will be Poetry Slam XXXIII. The poetry slam will be held at the Max Bar and Grill in downtown Wayne, NE starting at 7:00 pm, with registration starting at 6:00 pm. If anyone would like to participate in the slam they will need 4 original poems and $5 for registration at the door. All events are free and open to the public.
AUTHOR BIOS:
David Lee, retired, is in active and intense training to achieve his goal of becoming a World Class Piddler. (Actually, Dave had a great 2014: he acted the roles of Aristotle, Leonardo de Vinci, and the arrogant professor in the PBS film Art and Libby's Amazing Adventure; received an Honorary Doctorate of Humane Letters from Southern Utah University; his Archive was opened to the public at the Oregon Multnomah Library; his new book, Last Call, was released by Wings Press on his birthday; Utah State University asked for his handwritten manuscripts to establish a Poet Laureate Archive on their campus; and he sold his R.V. and bought a modular home for their permanent summer digs in Seaside, Oregon.) (Other than that, he is an inveterate introvert who scribbles and wanders available byways and trails, all at about the same rate and pace.)
Gailmarie Pahmeier has been a Nevadan for 30 years. She teaches creative writing and contemporary literature courses at the University of Nevada, where she has been honored with the Alan Bible Teaching Excellence Award and the University Distinguished Teacher Award. She is also on the faculty of the low residency MFA Program at Sierra Nevada College. A frequent Pushcart Prize nominee, her work has garnered a number of awards, including a Witter Bynner Poetry Fellowship and two Artists Fellowships from the Nevada Arts Council and has been widely published in literary journals and anthologies. She is the author of The House on Breakaheart Road and three chapbooks, the most recent of which, Shake It and It Snows, won the 2009 Coal Hill Chapbook Award from Autumn House Press. In 2007, she received the Governor's Award for Excellence in the Arts from the state of Nevada. She served as Poet-in-Residence for Nevada and is a former National Literary Panelist for the YoungArts Foundation. A new collection of her work, The Rural Lives of Nice Girls, came out in spring of 2014 and is now in its second printing. In January of 2015, she was appointed Reno's first Poet Laureate.
Scott Abels is the author of Rambo Goes to Idaho (BlazeVOX [books], 2011), as well as two chapbooks, Nebraska Fantastic (Beard of Bees Press, 2012) and A STATE OF THE UNION SPEECH (Beard of Bees Press, 2015).  His work can also be found in numerous journals and anthologies, including Best New Poets, Field, Coconut, Sink Review, DIAGRAM, Tinfish, Lungfull, The New Megaphone, RealPoetik, and others. After many years living in teaching in Mexico and Hawai'i, he now lives on the family homestead near Stanton, Nebraska, where he edits the online poetry journal Country Music.