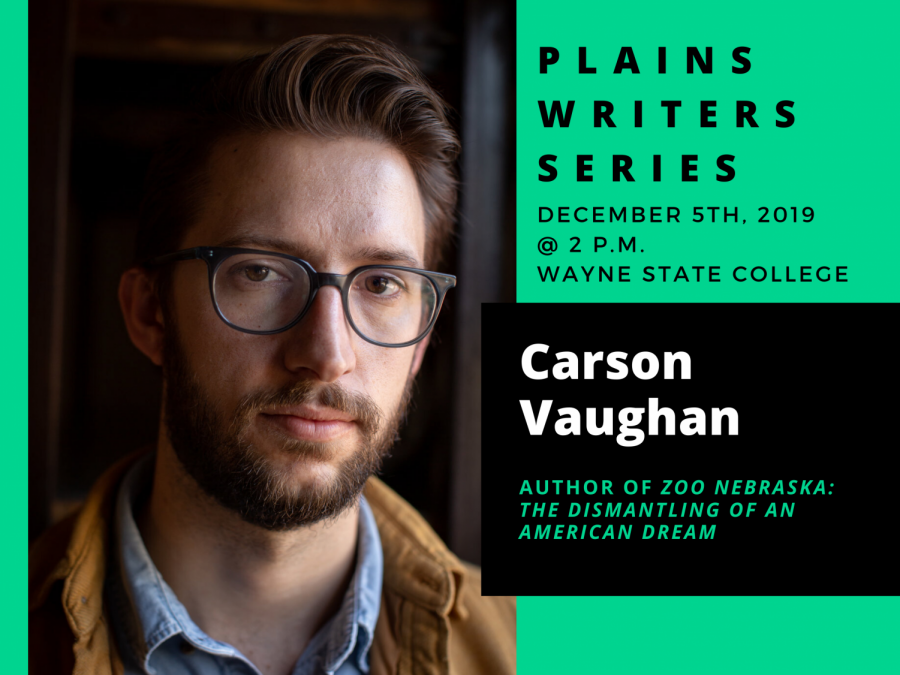 Wayne State College's Language and Literature Department, the School of Arts and Humanities and the WSC Press are pleased to hold this fall's Plains Writers Series on Thursday, December 5, 2019. The Plains Writers Series is held several times a year to bring attention to the prose and poetry of Great Plains writers through reading and interacting with area audiences.
This Plains Writers Series will highlight freelance journalist Carson Vaughan. The reading will begin at 2 p.m. in the lounge on the second floor of the Humanities Building at Wayne State College.
Following the Plains Writers Series will be the Fiction Slam. The slam will be held at the Max Bar and Grill in downtown Wayne, NE starting at 7:00 p.m., with registration starting at 6:00 p.m. Slam participants need two short stories and pay a $5 registration fee. There is no preliminary round for this slam. All events are free and open to the public. For more information, please go to wscpress.com.
ABOUT THE READER:
Carson Vaughan is a freelance journalist from central Nebraska with a focus on the Great Plains. His work has appeared in The New York Times, The New Yorker (online), The Atlantic, The Guardian, The Paris Review Daily, Outside, Pacific Standard, VICE, In These Times, and more. Most recently, he was awarded the 2018 John M. Collier Award for Forest History Journalism from the Forest History Society for his Weather Channel feature, "Uprooting FDR's 'Great Wall of Trees.'" He was also a recipient of a 2018 Individual Artist Fellowship from the Nebraska Arts Council. His first book, Zoo Nebraska: The Dismantling of an American Dream, was published via Little A in April 2019.