Fist City by Dan Memmolo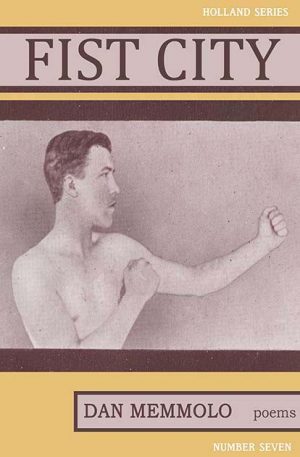 The love child of Gogol and Walt Whitman, Dan Memmolo writes with the absurdist sensibility of the one and the all-embracing love of the other. Sure, life s silly, say these splendid poems, ain t it grand? The music of Elvis and Marvin Gaye (and Sinatra and Tchaikovsky) thrum beneath the surface here, providing the soundtrack for that sexy, scary tragicomedy we call life.
–David Kirby
A jazzy, appealing cockiness pervades Dan Memmolo's work that sometimes hides, then illuminates in flashes, the sorrow and joy in this crazy world of Fist City; be it New Orleans, Boston, small-town Georgia, or suburbia. This lively, lovely first collection of poems offers thoughtful and wide-ranging takes on quirky small moments: a twirling sundress, a brutal game of dodgeball or shooting a gun like Elvis. I read the poems fast, then just wanted to read them again.
–Mary Logue
Dan Memmolo is equal parts wiseacre and soothsayer, part gyrating Elvis impersonator, part tender magician extracting bouquets from a depthless hat. Fist City sizzles with energy, humor, and insight. Music pervades the book: from Debussy to karaoke Sinatra, The Clash to Bojangles Robinson, high-brow to low moving the speaker in his awkwardly joyous, nervously sensual dance through life, always at a pace / conducive to heartbreak. Fellow sinners and neighbors of Fist City, how can a world so wrong . . . feel so right? Listen carefully and breathe it in. This highwire of a collection explains it all.
–Gaylord Brewer
Fist City
Dan Memmolo
Perfect Paperback
Logan House Press (March 1, 2013)
ISBN-13: 978-0976993582