PWS December 4th, 2014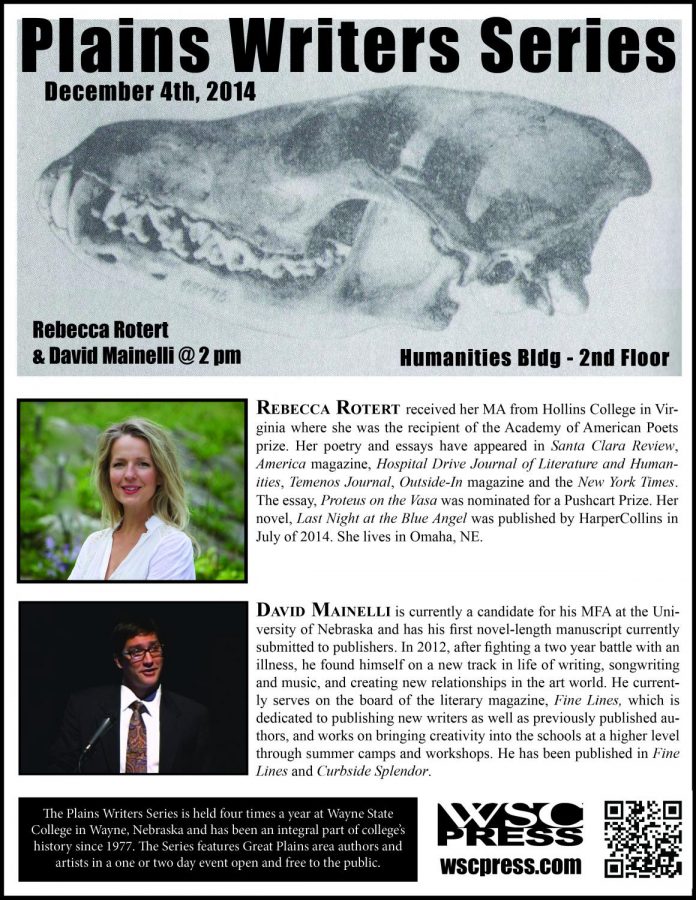 This fall's Plains Writers Series will highlight  authors Rebecca Rotert and David Mainelli. The authors will share selected pieces of their recent works in the second floor lounge in the Humanities Building at Wayne State College at 2:00pm.
Following the Plains Writers Series will be the Lucky 13 Fiction Slam. The fiction slam will be held at the Max Bar and Grill in downtown Wayne, NE starting at 7:00 pm, with required prelims starting at 5:00 pm. If anyone would like to participate in the slam they will need 2 original short stories and $5 for registration at the door. All events are free and open to the public.
AUTHOR BIOS:
REBECCA ROTERT
Rebecca Rotert received her MA from Hollins College in Virginia where she was the recipient of the Academy of American Poets prize. Her poetry and essays have appeared in Santa Clara Review, America magazine, Hospital Drive Journal of Literature and Humanities, Temenos Journal, Outside-In magazine and the New York Times. The essay, Proteus on the Vasa was nominated for a Pushcart Prize. Her novel, Last Night at the Blue Angel was published by HarperCollins in July of 2014.  She lives in Omaha, NE.
David Mainelli is currently a candidate for his MFA at the University of Nebraska and has his first novel-length manuscript currently submitted to publishers. In 2012, after fighting a two year battle with an illness, he found himself on a new track in life of writing, songwriting and music, and creating new relationships in the art world. He currently serves on the board of the literary magazine, Fine Lines, which is dedicated to publishing new writers as well as previously published authors, and works on bringing creativity into the schools at a higher level through summer camps and workshops. He has been published in Fine Lines and Curbside Splendor.